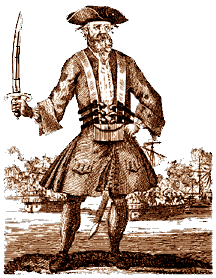 For any of you who have ever thought of being a pirate, the Lake Havasu Library is the place to be this summer. The theme of the Library's summer program is "Search for Treasure/Read for Pleasure". The SCA will be helping with three of the library's special activities.
June 28 we will be doing "Pirates in the Library". Bring your rapiers, pistols (non-firing models only, please) and wear your best pirate garb. There will be pick-up "encounters" as well as just general piratical fun. If you wish to read a pirate story to a group of children, contact Lady Rhiannon or Her Ladyship Regan prior to June 25. They have lots of books for you to choose from. If you don't want to read, just plan to come and have fun!
July 17 will be our Annual "SCA-101" Demo. Bring your arms, your garb, your Arts and Sciences projects and be prepared to talk about the SCA. This is one of the best opportunites we have to interact with the mundane populace and really let them know what the Society is all about. Plan to be there!
Your help is needed for the Pirate Picnic July 26. Though there won't be any fighting that evening, (we suggest you leave any edged weapons home or have them "peace bound"), you can lend color to the evening's activities by wearing your pirate garb and interacting with the children and their parents.
Each of these activities starts at 6:30. If you need more information contact Lady Rhiannon or Her Ladyship Regan for more information.